You may wonder why someone with the very English name of Mason should be writing about the Fletchers of the Scottish Highlands. It was some years ago, not long after the 1939-45 war, that my mother unearthed an ancient typescript which referred to her father's family. His name was Archibald Fletcher, and he was, in his time, a well known and respected resident of Birmingham. This old document mentioned the names of many of my mother's forebears, and to amuse myself I concocted a 'family tree' which I had to set out more by instinct than any knowledge of the correct procedure. Other interests cropped up in my life, and the papers were put away for a long while, and then a few years ago I came across them again, and thought - why not try and bring the old Family Tree up to date!
Little did I dream then that this would involve ... and how fascinating and absorbing it would prove to be.
With the papers my mother had given me was a printed list of names these were the organising members of a Clan Fletcher Society which had apparently been formed in 1921 (see Chapter III) I knew a few of these names, my grandfather, one or two aunts and uncles, and of course my mother. However, many of the people mentioned were quite unknown to me, although all of them were Fletchers, either by birth or marriage, and the names of their home towns were also given.
The Secretary of this Clan Society was a Miss Anne Grieve, whose mother had been a Fletcher prior to her marriage, and this Miss Grieve had lived in Callander, Perthshire. I thought I would try and trace any of the old Society members who were still alive, or maybe their sons or daughters. First I wrote to the Town Clerk of Callander. He passed my letter to the local Minister, who wrote to me - he knew that there had once been a family named Grieve living in Callander, but none were nor alive, and he could not tell me very much.
I wrote to other towns where Fletchers had lived, and little by little I found out that there were indeed other descendants of the family, one at Dunans, in Glendaruel, and one who lived near Aberfeldy, who put me in touch with yet another in Sydney, Australia.
I wrote to Sydney, and from there I received a copy of an old booklet which had been reprinted from an article about the Fletchers of Glenorchy which was first published in a magazine in 1916. This was a great find, as far as I was concerned, because it was in many ways similar to the old typewritten pages my mother had given me.
I decided that this old magazine article should form the basis for my own book, and rather naively assumed that I had only to check a few details, and add a name or too here and there. How mistaken I was! Admittedly, I have made use of the 1916 article, and the old typescript, both of which proved to have numerous errors, but these have provided only a skeleton for what has since emerged from over four years of research.
I embarked on this project without any funds on which to draw to pay for official searches, and a lot of my information has come from books. I have sent for copies of various items, a marriage certificate, some old parish registers, and a few copies of entries in reference books which could not be borrowed. But the majority of my information has come from the many pages of correspondence which has passed between me and many kind and helpful people, some of whom are members of the Fletcher family, but quite a number of whom are, or were, complete strangers.
My local branch of the County Library has been marvelous, and has obtained for me, on loan, a great number of books which would otherwise have been inaccessible - some of which have been marked 'Valuable - handle with care', and many which are now out of print· Books have been posted to me from libraries as far apart as Devon and Dunoon, Bristol and Brighton, Falmouth and Falkirk.
I had long had the feeling that there must be a lot of interesting things in the Glenorchy district which might be of use to me, and in June, 1971, my husband and I took a holiday in Scotland - at least it was supposed to be a holiday. There were one or two people to visit, people with whom I had been corresponding for a year or so but never met, and I hoped to visit some of the old grave yards in the area in case there were some headstones which might mark the resting places of some of the more ancient Fletchers. These, I thought, might give me at least a little information if they were still readable.
Our first night in Scotland was spent at an old farm house near Lochearnhead. The landlord, although a greet one for local history and legend, and an indefatigable talker on many matters connected with the Highlands, was not very knowledgeable on my particular subject. However, he gave me the name of a local newspaper editor and suggested I should ask whether he could help me in any way. The following morning I went to see the gentlemen in question, who again, in spite of his interest in the matter, could not offer any information or assistance.
We then decided to visit the graveyard in the old town of Crieff, where my great-great-grandfather was born in 1820. In order to gain access to this burial ground, which is now disused, we first had to obtain the key from the local bank manager, and we also had to don our wellington boots in order to make our way through the long, wet grass surrounding the old graves. We had to scrape away years of moss and grass from the stones, and spent a long time there, walking through the rows of graves, careful to miss none of them. But alas, we found no Fletchers there.
Next we journeyed to Callander, where I called to have a chat with the Minister. He offered various helpful suggestions, and gave me the addresses of other Ministers who might be able to tell me about some of the older members of their parishes. we also paid a visit to a charming lady near Aberfeldy, the one who had sent me the address of the relative in Sydney. She was able to add quite a lot of information to my notebook, and she also gave me photographs of one or two members of her branch of the family. She showed me an old sampler which had been made by her Grandmother, which I photographed.
Dalmally Churchyard was our next objective, and here, at last, we found them ... Fletchers galore! We went through the ritual of walking along each row of headstones, and I copied down a total of twenty-nine Fletcher epitaphs, and a further thirty-two which referred to people who had been connected with the Fletchers by marriage. There were probably some I missed even then, but this was supposed to be a holiday, so on as went.
This time we went to Achallader Castle, near Bridge of Orchy. This was a place I had long wanted to see, and I obtained permission from the farmhouse to take some photographs. Here, quite close to the ruins of the old Castle where the Fletchers of the sixteenth century had lived, was a small family burial ground, Only six headstones remain, but the inscriptions on these are clear, and the graveyard remarkably well kept.
The little village churchyard of Kilmodan and Colintraive, in Glendaruel, was our next port of call, and this provided us with five more Fletcher graves, in which were interred the remains of a total of twenty-nine members of the family. after leaving here, a most interesting evening was spent at Dunans, in Glendaruel, where we had been invited to spend the night. Dunans has been in the Fletcher family for well over two hundred years, and is a most attractive house, as can be seen from the photograph. There are a great family relics here, and also a small family burial chapel where several members of the family lie.
Well, this had not been everyone's idea of an ideal holiday, plodding through graveyards and scraping moss off old headstones, but we enjoyed it, and it was certainly very rewarding in many ways. and we did see some very lovely parts of the Highlands, and can well imagine what it must have been like to live in those beautiful, but desolate glens in the days of my ancestors.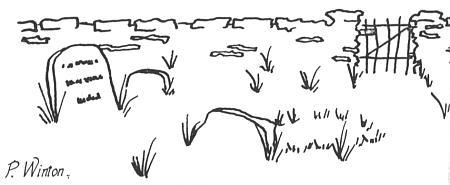 © 1973 Margaret Mason