The youngest son of Archibald Macanleister, the seventh Chief of the Fletcher Clan, was named Angus. The date of his birth is not known, but was probably about 1700. He leased the farm of Pubil, in Glen Lyon, near his brother Donald's farm of Camuslaimh. The spelling of Pubil varies, sometimes appearing as Pooble or Pubyl, but is given as Pubil on the most recent maps.
In June, 1971, my husband and I made the trip along the whole length of Glen Lyon, one of the longest glens in the Highlands, and also one of the most beautiful. When the Fletchers lived here, in the late seventeenth century, it must have been extremely wild, and was probably only a very rough track in place of the present day tarmac road. The farthest point westwards was, in those days, Invermearan, and from there a track could be negotiated on foot along the shores of Loch Lyon, through the hills to Auch, which is midway between Tyndrum and Bridge of Orchy, the path through the hills following several burns to the south of Beinn Dorain, Today, however, the hydro-electric scheme has brought about the building of the dam just west of Pubil, at Lubreoch, thus doubling the size of the loch. All that can be found at Pubil today are a few rather uninteresting modern cottages and the generator house of the dam, the whole area seeming to be very bleak and desolate, the only signs of life we saw being some rather attractive highland birds of a species unknown to us.
Angus Fletcher of Pubil married twice. His first wife, whose name I heve been unable to discover, bore him four daughters. His second wife, Grace MacNaughton had two boys and four girls.
Grace MacNaughton seems to have been quite a remarkable woman. Angus was her second husband, her first having died leaving her with six young children. Thus, with Angus's four daughters and another six of her own children, she raised a family of sixteen. She was a woman of great affection and piety, and her large family was given a good education and a loving home. Grace was descended through her maternal grand-mother from the Campbells of Argyll, her father being descended from Dugald MacNaughton, known as Dugald the Fair. After the death of Angus Fletcher, Grace married yet again, this time to a true bred Celt, a MacDiarmid, who spoke only his native tongue and would only be seen wearing the plaid of his ancestors. They lived at Rannoch, in Perthshire, and Grace had another five children, raising in all four families of sons and daughters. In later life she and her husband lived in comfort, though unpretentiously, in a simple farm house, cared for by their widowed daughter-in-law, Mrs. John MacDiarmid, who had an extensive sheep farm.
The eldest son of Angus Fletcher and Grace was Archibald, who was born at Pubil in 1746. He was destined to become one of the best known Fletchers in Scotland. apart from Duncan, his younger brother, details of the other children have been lost in obscurity·
Archibald, at the age of ten, was sent to the Grammar School at Kenmore, where he learned English and Latin and showed himself to be an intelligent and industrious scholar. At the age of thirteen he went on to Perth High School, where his studies were spurred on by keener competition. He was popular with his fellow pupils, and one of his outstanding characteristics even at this early age was a strong sense of justice. At sixteen he went into the office of an Edinburgh lawyer, and worked his way up in this profession, taking full advantage of the excellent libraries and other cultural amenities of the city. He became confidential clerk to Lord-advocate Sir James Montgomery, who introduced him to Mr. Wilson of Howglen, with whom he went into partnership. Archibald became a member of the Society of Writers to the Signet, and later a member of the Faculty of Advocates. He was an ambitious man, and in his early years he went so far as to rise at four in the morning in order to study Greek. He also had considerable fluency in the Erse language, which he was able to put to good use in 1778, when a number of the M'Cra Highlanders mutinied, refusing to embark at Leith for service in America. The mutineers were only prevailed upon to lay down their arms after Archibald Fletcher had conducted lengthy negotiations with them in their own language a tongue which was not spoken by their own Officers.
Archibald Fletcher gained the friendship of many well known and influential men of his time, and was one of the leaders in the moves towards Burgh reform in the late eighteenth century. He wrote a pamphlet on the proposal that no one above the age of twenty-seven should be admitted to the Faculty of Advocates, which resulted in the resolution being withdrawn, and he also wrote a distinguished essay on Church Patronage. In 1825 he published "An Examination of the Grounds on which the Convention of Royal Burghs claimed the Right of Altering and Amending the Setts or Constitution of the Individual Burgh's"·
In 1787 Archibald met Elizabeth (Eliza) Dawson, who lived at Oxton, near Tadcaster in Yorkshire. She was born on 15th January, 1770, her father being a land surveyor, and her mother the eldest daughter of William Hill. Mrs. Dawson died ten days after Eliza was born. At the age of eleven Eliza was sent to the Manor School at York, which, although run by a very conscientious gentlewoman, Mrs. Forster, proved to be quite unsuitable for the girl. Eliza loved poetry from an early age, and was a great letter writer throughout her life. When she and Archibald announced their wish to marry, Mr. Dawson was most displeased, partly because of the wide difference in their ages he was 41 end she only 17 but also because he wished her to accept a suitor of a higher social status, Lord Grantley. However, in July, 1791, Archibald and Eliza were wed, although her father emphasised his opposition to the match by refusing to attend the ceremony. His fears proved groundless, however, and they enjoyed thirty-seven happy years of life together,
Archibald and Eliza took up residence in Bill Street, Edinburgh, and in 1794 removed to No.20, Queen Street in the same city. In June, 1804 there was another change of address, this time to No.51, North Castle Street, this being necessary in order to accommodate a growing family of six children. In July 1807, the family were living at Hepburn House, near Belford in Northumberland, and in the summer of 1810 they took "a pleasant country house" named Frankfield, near Lasswade, on the banks of the river Esk. In the summer of 1813 the Fletchers went to live at Park Hall, near Balfron in Stirlingshire, where they remained until the summer of 1818, when the property had to be sold because it was becoming too expensive to maintain.
Holidays were taken most years, and were spent in a variety of places, Sometimes at Rannoch with Grace MacDiarmid, Archibald's mother, and sometimes at Dunans with his cousin. In the summer of 1820 the family spent the summer at The Old Manse in Callander, which was a comfortable house with a grassy bank at the front sloping down to the clear bright waters of the river Teith. 1822 saw the Fletchers in Edinburgh, where they joined the assembled crowds to witness the imposing procession on the occasion of the visit to the city by King George IV. Although in poor health, Archibald insisted on taking his place on the platform which was provided for gentlemen of the Bar,
Archibald had been called to the Scottish Bar in 1790, from where he retired owing to his poor state of health, in 1816. In 1824 he took a lease on the house where he was to spend the few remaining years of his life, Auchindinny House, near Penicuik, just south of Edinburgh. He died there at the age eighty-two in December 1828, and was laid to rest at Calton Bill Cemetery, Edinburgh. Auchindinny House was built in 1702-7, and was the last work of Sir Willism Bruce, the architect of Hopetoun House which overlooks the river Forth near Edinburgh. Eliza described Auchindinny as an "odd looking chateau", but she was much taken with the large garden, and they enjoyed the peace and repose of country life. In Eliza's autobiography there is an extract from a letter which one of her grand-sons wrote to his aunt, Lady Mary Richardson in which he describes a visit he made in about 1876 to Auchindinny House with his son Angus and his brother George. He found the place little changed since he used to visit Eliza some 47 years previously and he showed Angus the plot of garden his grandmother had encouraged him to work, the visit bringing back many happy memories of his youth.
Amongst the illustrations you will see a copy of the Coat of Arms which was granted to Archibald Fletcher in 1825, and also a photograph of Auchindinny House which I took in 1971, which I would imagine had hardly altered from the time the Fletchers lived there,
Early in 1829, after her husband's death, Eliza gave up Auchindinny House, and thereafter made short visits to places such as Tadcaster, Bilton - near her friends Dr. and Mrs. Arnold - London, and in April, 1830 she spent a short while in Paris. and then in 1833 Eliza and her daughter, Mary, stayed for three months at Thorney How, near Grasmere, in the Lake District, where they were to return six years hence. They took a cottage at Darland, near Chatham in Kent in 1835, and in June 1836, when Eliza was sixty-six, she and her son and daughter, Angus and Mary, went together on a tour of Switzerland. They returned to Edinburgh in 1837, after a short stay in London, where they made the acquaintance of the young Italian, Giuseppe Mazzini, with whom Eliza later corresponded frequently, and who was destined for a great future in his own country.
In Edinburgh, Eliza Fletcher and her daughter took the villa of Duncliffe, about two miles west of the city, and it was at about this time that they met Elizabeth Fry. Then in 1839, when Mary was visiting the Arnolds at Fox How, near Grasmere, she learned that a nearby farmhouse was for sale, and Eliza decided to purchase it. She took lodgings at Throney How in May of 1840, in order to be near to supervise the necessary alterations, and in July 1841 they at last took possession of Lancrigg, a most attractive house in Easedale, built on a hillock overlooking the calm scenery of Grasmere. This was used as a summer home until April, 1843, the winters being spent st Duncliffe, after which it was decided to live permanently at Lancrigg. Incidentally, it was on Lancrigg terrace that William Wordsworth was to compose much of his work, it being a favourite haunt of the poet and his sister, Dorothy. They had lived in Easedale forty-four years when the Fletchers first came there.
Eliza Fletcher became known as one of the beauties of the Lake District, and could name among her close friends and acquaintances such notable characters as Hartley Coleridge, Longfellow, Sir Edward and Lady Parry, Alfred Tennyson, Lord Brougham, who had also been a close associate of her husband, Elizabeth Fry, William Wordsworth and his wife and daughter, Dora, and Mrs. Caskell, who makes several references to the Fletcher family in her published letters. The Fletchers and the Davys of Lesketh How (see later in this chapter in the references to Margaret, Eliza's daughter), were also close acquaintances of the nineteenth century diarist, journalist and barrister, Henry Crabb Robinson, another of Wordsworth's friends,
A fascinating and full account of the life of Eliza Fletcher and her family, and indeed of the life of nineteenth century society generally is contained in Eliza's autobiography, which was taken from her letters and diaries covering the years from 1770, when she was born, until her death in 1858. This work was edited by her youngest daughter, Lady Mary Richardson, and first printed privately in 1874, subsequently running into three editions. Eliza was buried at Grasmere, and visitors to the Church there may see a marble profile of the beautiful Mrs. Fletcher by her son Angus, of whom I shall tell you more in due course.
As I have already mentioned, Archibald and Eliza Fletcher had six children. Their eldest son, Miles Angus, was born in September, 1792, and spent much of his early childhood at Oxton with his grandfather. At the age of nine he went to High School, but after a rather disappointing year his parents placed him under the private tuition of a clergyman, the Rev. William Thomson, at Dalziel, near Hamilton. On the 27th December, 1817, Miles Angus Fletcher was married to Charlotte Clavering, daughter of Lady Augusta Clavering, who was descended from the fifth Duke of Argyll. The wedding took place at Ardincaple Castle, Lord John Campbell's residence near Helensburgh, once the home of the MacAulay family.
As poor health had destroyed any prospects Miles Angus might have had for following his father's profession at the Bar, it was some relief to his family when the Duke of Argyll, who was then Keeper of the Great Seal of Scotland, appointed Miles his Deputy Keeper. This was early in 1831, but unfortunately the post was to fall vacant once more in the summer of the same year, as after several months of illness, Miles Angus Fletcher died at No.11, Queen Street, Edinburgh, on the 20th August. He was buried beside his father at Calton Hill Cemetery, where also lay his own youngest child who had died in infancy.
Charlotte and Miles had four children. The first born was George, in 1818. In Eliza's book, he and his wife and son are mentioned as having been among the members of a large family gathering at Lancrigg during the summer of 1850, George then being on leave from India where he was in the Bengal Civil Service, being stationed at Chittagong. He returned there at the end of 1852. This must have been a reference to George's first wife, who bore him a son and three daughters. Their son seems to have been named after not one ancestor but several, appearing in the records of Balliol College as Miles Angus Archibald Douglas William Henry Fletcher. He was at Oxford in 1866, and later sent to Canada, where in about 1880 he was unfortunately lost in a snow storm. Two of his sisters, Meta and Lola were nuns, and the third, Ella, married Archibald Smith-Sligo - their daughter, Margaret, eventually becoming the wife of a distant cousin, Commander Rawdon Angus Fletcher. George's second wife had one son, Lt. Col. George Douglas Alexander Fletcher who went to live in the United States, where he died In 1951. His American wife had two sons, the elder being killed in a car accident some time ago. The younger son lives in Malaya.
The second son of Miles Angus and Charlotte was Archibald born in 1820. He married Jane Mary, the daughter of Gen. Sir Edward Nicholls of the Royal Marines, in about 1848. In 1853 the Duke of Argyll used his influence to obtain for Archibald the post of Lt. Ordinary of Devonport Dockyard and during the Crimean war in 1855 Archibald had command of a gun boat in the Black Sea. It was he who was the writer of the letter to Lady Richardson mentioned earlier in this chapter, in which he recalled his youthful visits to Auchindinny house. Jane and Archibald had seven children. Archibald and Edward, the first two, both died young; Eleanor, the eldest daughter, married the Rev. G.S. Batty, and her daughter now lives in Devon; Kathleen, Elizabeth and Ann all married and had families, and Angus, the only surviving son, married Mary Twining. They went to live in South Africa, and have three children, Archibald, Grey and Nancy.
A third son was born to Miles and Charlotte In 1822, Henry Mordaunt Fletcher. He was one of the first boys to be educated at the Edinburgh Academy, and later went to Balliol College, Oxford, where he,travelled by coach and four, as there were at that time no railways in England. He matriculated in 1845, and gained his M.A. in 1850. He became a Minister of the Church, acting as curate in several parishes before becoming Rector of North Stoke, near Bath.
In 1851, Henry was married in Edinburgh to the daughter of Professor Alexander Monro of Edinburgh University, his wife's name being Charlotte, as was his mother's. Henry's wedding was to be the last occasion upon which Eliza, his grandmother, was to visit the city of Edinburgh. Charlotte Monro was born in 1820, the year of Napoleon's death, and she died at Oxford in 1908.
After various livings at such places as Derry Hill, near Calne, Wiltshire, Alton Barnes, also in Wiltshire, and Bicknor in Kent, Henry Mordaunt became Rector of Grasmere in Westmorland, although, alas, this did not take place until after the death of his grandmother, Eliza. He was at Grasmere from 1878 to 1893, after which he went to Nackington in Kent, a peaceful little village not far from Canterbury, from where he retired to live the rest of his life in Oxford, where he died in 1914. Henry and Charlotte had a family of five, two girls and three boys. Two of his sons followed in his footsteps and took Holy Orders, these being the eldest, Miles Douglas, who was born in 1853, and George Charles, the youngest, born about 1859.
Several anecdotes are to be told about the Rev. Henry Mordaunt Fletcher. It is said he learned to ride a bicycle at the age of seventy, and he claimed to have been the first man to climb the Matterhorn in a top hat! The climb was, of course, no mean achievement, although the wearing of the top hat may be a somewhat odd distinction.
Miles Douglas Fletcher married Ethel, the daughter of Major General Henry Worthy Bennett, and they raised six children. The eldest, Miles Henry Alexander, and the fourth son, Bernard Campbell Fletcher (1898-1968) both made the army their career, Miles retiring with the rank of Lt.Colonel and Bernard as Brigadier, with the added honours of the D.S.O. and the M.C. The third son, Rawdon Angus, born in 1895, went into the navy, retiring as Commander. Mordaunt, the second son, born in 1894, died shortly before his sixth birthday, and Ian, the youngest, born in 1910, died in 1940 as a result of enemy action. The only girl, Adela, was born in 1902, was also presumed to have been killed at about this time, in an air raid.
The Rev. Miles Douglas Fletcher was educated at Charterhouse, being one of the last pupils of the old school in Charterhouse Square. He went up to Oxford and gained a Third Class Honours degree in history. He was quite a linguist, and studied Hebrew and Classical Greek. In fact he was so proficient that he was able to converse with a Greek priest when on a visit to Marsailles, and he later wrote his sermons with the aid of a Hebrew copy of the Old Testament. He could also speak German and French and learned Spanish at the age of fifty-seven. a talented pianist he knew several Beethoven sonatas by heart, and he also played the cello.
The name of Charlotte Maria Fletcher, the elder of Henry Mordaunt's two daughters, was very well known in the Lake District in the late eighteen hundreds as the writer of the Grasmere Dialect plays, the best known of these being "The Dalesman". These plays were written primarily for performance by the Grasmere Village Players. Although compelled to live in the south of England for a considerable period after her father's retirement, she returned to Easedale in 1914, when he died, and settled at "Lowfold" with a family servant, Dorothy. During the last few years of her life Charlotte wrote a collection of verses which were later published under the title "Echoes of Easedale".
Henry's second son, Archibald Henry John went to Oxford, as did his two brothers, and obtained both B.A. and M.A. degrees. There is no record, however, of his having become a minister. Apart from the fact that he was still alive in 1956 - this according to the Merton College records - nothing is known about him, except that he was married and had two sons and a daughter. The eldest son Anthony Archibald (1886-1950) married twice, his first wife having a son, Anthony Douglas Martin, who was born in 1918.
Grace Carmichael Fletcher, the younger daughter of the Rev. Henry, was born in 1856. She lived to a great age, and spent the last years of her life in Oxford, where she bought a small house. By all the accounts she was a quaint little lady, with a passion for animals. One winter's day she entertained a member of the family to tea, and apologised to him for serving the meal in the kitchen. She explained that she had brought the hens into the drawing room, as she thought it was too cold for them at the bottom of the garden! At one time she included the milkman's son in a selection of guests at a lunch party she was giving at an Oxford hotel, her reason for doing so being that she thought he was so kind to his horse! She died, unmarried, in 1947, and is remembered with much affection by her relatives.
The youngest member of Henry and Charlotte's family, the Rev. George Charles Fletcher, also made his home in Oxford in his later years. In 1946 he and his sister, Grace, paid a visit to his father's old parish of Grasmere, the present Rector, Canon R.C. Tait, recalling Grace's urgent call upon him and his wife with a request to borrow hot water bottles. George later moved to Norfolk, where he died in 1949.
Now to return to the family of Archibald and Eliza Fletcher. Their second child was a girl, Elizabeth, born in October, 1874. She married William Taylor, who, after giving up a promising career at the English Bar, took on the supervision of Bourtree Hill Colliery in Ayrshire, which proved to be a source of distress and misfortune to his family. Elizabeth died in 1828, after having three children, young Elizabeth, born in 1815, who only lived to the age of thirteen, when she died of typhus on the 15th December 1828; Archibald, born in 1817, who later attended Rugby School under the well known headmaster, Dr. Arnold, who, with his wife, had become friends with Eliza Fletcher. And the youngest daughter was Mary, of whom nothing is recorded.
Eliza and Archibald had a third daughter, Grace, a lovely girl if one may judge from the accounts of her in Mrs. Fletcher's autobiography. However, she was to live only to the age of twenty, then she contracted typhus and died after only three weeks illness. She was buried in the family grave at Calton Hill, Edinburgh, in April, 1817. Her parents never really recovered from the shock of her death, and Elite wrote a memorial chapter on her beloved Grace, which is included in her autobiography.
Margaret, Eliza's fourth child, was born in 1798 and in 1830 was married to Dr. John Davy, the brother of Sir Humphry Davy. Dr. Davy was, to quote a letter written by Mrs. Gaskell in August, 1859, 'a gentleman of a stiff, precise, over-gentlemanly manner' which she found rather frightening. As inspector-general of army hospitals, John Davy undertook various government missions. He was a very able scientist, hardworking and humane in his outlook. Professional duties made it necessary for him to take Margaret with him to Malta immediately after they were married, and they stayed there until May 1835. Dr. Davy was appointed chief medical officer at Fort Pitt in Kent, where one of their children, Humphry, was born in 1837. In the year 1840, John Davy was sent on special service to Constantinople, with a view to effecting some reform in the medical department of the Turkish army, which had been agreed upon between the British and Turkish governments. Margaret and her five children spent the time while he was away at Duncliffe, near Edinburgh, with Eliza and her youngest daughter, Mary, and after Duncliffe was sold Mrs. Davy took the house called Murrayfield, which was near the city. Dr. Davy returned from Constantinople in January, 1842, and early in 1843 he and Margaret decided to settle in the Lake District. They bought a few acres of land near Ambleside, and had a house built there, which was just completed when Dr.Davy was offered an appointment in the West Indies. He accepted, and left almost at once. His family became well known and well liked by their Lakeland neighbours, and towards the end of December 1848, Dr. Davy returned to the home he and Margaret had established at Lesketh How. John Davy died in 1868, and Margaret a year later. They had five children, the eldest, Archibald, was born in 1835, and after attending Cambridge University, where he took his M.A. in 1856, he became a minister. In 1883 he was Chaplain to Lord de Tabley of Knutsford, Cheshire, Elizabeth, their eldest daughter, died in 1857 in her early twenties, of consumption. Grace, the youngest, married and had a family, and her grandson today lives in Shropshire. Two boys, Humphry, born in 1857, and John Miles, both died of Scarlet Fever during the same week of August, 1842, and were laid to rest in West Church Cemetery, Edinburgh.
The youngest son of Archibald and Eliza Fletcher was Angus, who was born in Edinburgh in 1799. He was trained for the profession of Writer to the Signet, but this he relinquished in 1824 in favour of a career as a sculptor - which was greatly influenced by a visit to Italy. Whilst on a later visit to Rome; in May, 1821, he was taken ill, and a relative, Lieutenant McNicol, was sent out to travel home with him. He spent the following winter with his parents at Auchindinny house where he gradually recovered his health, He was in Yorkshire in 1828 where his sister, Margaret Taylor, was also staying, when his niece, Elizabeth Taylor was taken ill and died, and Angus had only just returned from the funeral when he was called to his father's deathbed at Auchindinny.
Angus Fletcher was endowed with the fine features of his mother, and although erratic and eccentric, or indeed perhaps because of these qualities, he attracted the friendship of Charles Dickens, which lasted for over twenty-five years. They were introduced to each other by John Macrone, the publisher of Sketches by Boz, who was interested in sculpture and collected literary busts.
Angus acted as a guide and companion to Charles Dickens on a tour of the Highlands in 1841, a momentous trip, part of which is described in one of Dickenst letters to John Forster, his biographer, dated 9th July, 1841, in which he says -
We left Lochearnhead last night (Thursday), and went to a place called Killin, eight miles from it, where we slept. I walked some six miles with Fletcher after we got there, to see a waterfall and truly it was a magnificent sight, foaming and crashing down three great steeps of riven rock; leaping over the first as far off as you could carry your eye, and rumbling and foaming down into a dizzy pool below you, with a deafening roar. Today we have a journey of between fifty and sixty miles, through the bleakest and most desolate part of Scotland, where the hill-tops are still covered with great patches of snow, and the road winds over steep mountain passes, on the brink of deep brooks and precipices. One stage of ten miles, over a place called the Black Mount, took us two hours and a half to do; We are now in a bare white house on the banks of Loch Leven ... and a most infernal Piper practising under the window for a competition of pipers which is to come off shortly. The store of anecdotes of Fletcher with which we shall return will last a long time. It seems that the Fletchers are an extensive clan, and that his father was a highlander. Accordingly, wherever he goes, he finds out some cotter or small farmer who is his cousin.
Dickens and Angus Fletcher also met in Italy in 1844, where Angus had been living for a time. He arranged for Dickens to rent a Villa at Albaro, near Genoa, and even made a sketch of the villa, which appears in Forster's Life of Dickens. Later Dickens and Angus again met in Italy, this time at Carrara in 1845, where Angus was visiting a marble merchant in connection with his work.
There are many more references to Angus Fletcher in the letters of Charles Dickens (who nicknamed him 'Mr. Kindheart') including the one quoted in Forster's book expressing the great sadness felt by Dickens at the death of Angus Fletcher in Leeds Infirmary after four days of illness, following a collapse at the railway station in 1862.
Angus Fletcher, in his short career as a sculptor, was moderately successful. He exhibited various works at the Royal Academy between 1831 and 1839, including a bust of Charles Dickens, and there are still in existence busts of other personalities of his time, such as Felicia Hemans the poetess, and also William Wordsworth, and Margaret Davy, Angus's sister. He was responsible for the profile medallion of his Mother, Eliza, in Grasmere Church, as well as the carving on the headstone of Wordsworth's daughter, Dora Quillinan, in the churchyard, decorated with a border of ivy leaves and a lamb supporting a cross.
The youngest of Archibald and Eliza's family was Mary, who was born in May, 1802. She was an excellent companion to her mother after Archibald's death, and was greatly missed by Eliza when in 1847 she married Sir John Richardson, the Arctic explorer. They were married at Grasmere Church. Sir John had been twice previously married, and Mary became step-mother to his family of two girls and three boys. A great part of their lives together was spent at Lancrigg, near Grasmere. As Canon H.D. Rawnsley wrote in 1912, "when Mrs.Eliza Fletcher passed away in her sleep on the 5th February, 1858, at the age of eighty eight, she left behind her as fit successor at Lancrigg, her youngest daughter, the beautiful Lady Richardson, to carry on the traditions of lakeland benevolence and hospitality." Prior to 1858 Sir John Richardson had been in the Medical Department of the Navy at Haslar Hospital, Portsmouth, from where he retired in 1855. After a summer in the Trossachs, the Richardsons went to Lancrigg in the winter of that year. Sir John died on the 5th June, 1865, and his wife on 17th October, 1880, and both were buried in Grasmere churchyard, as were Elizabeth Taylor and George Fletcher, Mary's niece and nephew.
The house at Lancrigg is still standing, although not now a private residence. After being bought by a builder from Windermere to convert into a hotel, it is today a pleasant and peaceful home for elderly ladies. I believe Eliza and Mary would have very much approved of this worthy use of their old home.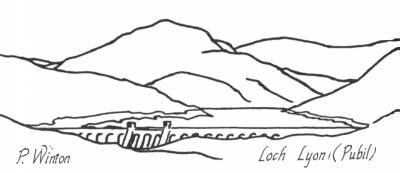 © 1973 Margaret Mason