Really, to call this branch of the family the Fletchers of Jura is a misnomer. They were for the best part of a century - 1804 to 1900 - one of the best known and most important families on the island, but later split into two 'off-shoots', some to be more appropriately referred to as the Westbury branch but the majority becoming better described as the Rhodesian Fletchers,
Patrick Fletcher, the second son of Archibald and his wife, Ann Campbell, was born in 1770. On the 29th March, 1804, he married Janet, the daughter of Donald Campbell of Achlian, who was a Banker and Solicitor at Inveraray. There is an entry of this marriage in the Clan Campbell Collection, Vol.VII. p.129, where Patrick is named as Peter, a common occurrence in Scottish records. Janet's mother was a Cameron from Duchuile, near Achlian. Patrick and Janet made their home at Craighouse Farm and Inn, on the island of Jura, and raised a family. Patrick died in 1847 and was buried at Craighouse.
Dugald, their first-born, was killed at sea, and was unmarried. Then came Archibald, of whom more later; two more sons, James and Alexander, both of whom also died unmarried, and then came Peter, who was known also as Patrick. He was born in 1827, and became the founder of the Rhodesian branch of the family. Four girls completed the family, Alice, Annie, Margaret and Murray. Annie married Hugh McEwan, Banker and Solicitor of Lochgilphead, and their eldest son, Dr.Dugald McEwan, became Surgeon General in the Royal Navy, serving for several years as H.M. Surgeon aboard the Royal Yacht Victoria & Albert. He later retired to Bedford.
To return to Archibald, the second son of Janet and Patrick, he became the founder of the Westbury branch of the Fletcher family, as I said, his parents lived at Craighouse, and in about 1839 he took the farm of Kenuachdrachd, in the north of the island. On 19th October, 1840, he married Mary, one of the daughters of the Rev. Alexander Kennedy of Jura, a very well known Minister, who wrote the New Statistical Account for Jura in 1843. In 1859 Archibald and Mary took Tarbert and Corrienaheira farms, and lived at Tarbert until 1900, his son, Patrick, being the last Fletcher to farm here. Archibald also had the farm of Cracaig, which he kept until 1900, in which year it can be assumed that he died. During his lifetime the Fletchers gained a wide reputation for sheep farming and wool production, supplying many foreign buyers, as well as the home market.
Archibald and Mary had five sons and two daughters. Their first son, Dugald, married Margaret MacLeod, and they had two sons and three daughters, the sons both going into the army. The elder, John Archibald, was twice wounded during the 1914-18 war. He served with the R.A.M.C. and was awarded the Military Cross for his conduct on the field. He rose to the rank of Major, and was praised in the citation for his ability and fine example to the men of his Company. His brother, Capt. Dugald Angus Fletcher, who was with the Queens Own Cameron Highlanders during the war, was also wounded whilst serving abroad, and was mentioned in Despatches for his good work with the British army at Salonica. Their three sisters, Mary, Margaret and Janet were, as were John and Dugald, members of the Clan Fletcher Society in 1921
As I have said, the Fletchers gave up farming on Jura in 1900, and in 1906 they were living at Haydon Grange, Compton Martin, near Bristol, and in 1917 they were at Westbury House, in Somerset.
The Rev. Donald Budge, in his very interesting book, Jura, which was published in 1960, quotes a story which used to be told about a Jura man who had a dream. This was of an animal like a great bull which came out of the sea, issuing a vapour from its nostrils which covered the whole island. The man was much impressed and consulted a wise man. The explanation given to him was that a new family would come to Jura; they would flourish and prosper, and spread over the whole island, but after several generations they would depart as the vapour in the dream had vanished over the mountains. It is said that this dream came true - the new family was that of the Fletchers, their fortunes developing according to the seer's interpretation of the dream. another prophesy was that the Fletchers would return some day to Jura, but this has so far been fulfilled in name only, as a Mr. Robert G. Fletcher of Ardlussa adopted Jura as his permanent home - but he has no connection with the earlier Fletchers.
To return to the family of Archibald Fletcher and Mary Kennedy, their second son, John, died unmarried, and then came Patrick, who farmed at Tarbert, on Jura. It is said that as well as farming, Patrick had a hand in running the Jura distillery for several years. This had been built by the Jura Campbells in the middle of the nineteenth century, although some reports say that the Fletchers first started the distillery. Patrick, however, was the last Fletcher to farm on the island, and the family left in 1900.
The fourth son of Archibald and Mary was Alexander, born in 1850. He lived until 1908, having married Elizabeth Frew. The eldest of their six children was named Elizabeth, after her mother, and was born in 1880. Then came Archibald, who married and had two sons and several grand-sons. Next was a daughter, named Mary Kennedy after her grand-mother. Two more daughters were born, Joanne Frew, born in 1886, who became Mrs. MacFarlane, and Agnes Alexandra, born in 1888. Both of these are still alive at the time of writing, Agnes living in Australia. Lastly there came another son, named Alexander after his father. Alexander (senior) and his family lived for a while in Kansas, U.S.A., where the children were all born. On the death of his wife, Elizabeth, they returned to Scotland, and in the early 1900's all except Jeanne went to New Zealand with their father. Jeanne stayed behind to live with an aunt, Mrs.Jessie Baxter, in Mull, where her grandmother, Mary Kennedy, was also living at that time. When Alexander Fletcher died in New Zealand the rest of the family moved to Queensland, Australia, where they all settled, Agnes only now remaining. Mrs. Jeanne Fletcher MacFarlane, a Clan Society member in 1921, went to live on Mull for a while after her marriage, and now lives with her married daughter in Lincolnshire.
The fifth son of Archibald and Mary was yet another Archibald, who married Margaret MacDonald and had one daughter. His two sisters were Annie, who married Mr. Duncan Campbell of Barnstable, Devon, and Jessie, who became Mrs. Baxter.
Here my information on the Westbury Fletchere comes to an end, but the chapter continues with the Rhodesian branch of the family.
Peter Fletcher, the fifth son of Patrick Fletcher and Janet Campbell, was born on the island of Jura in 1827, and was known as Patrick. He took up civil engineering in Scotland, but there was very little work of this nature at that particular time, and he turned to teaching. He met Agnes Eaglesine, also a teacher, who came from Paisley, to whom he became engaged. In the 1850's Peter (Patrick) emigrated to South Africa, and after teaching there for a while he was active in the founding of Stellenbosch University, Cape Colony. He sent for his fiancee, and they were married in Cape Town in about 1864. They both continued teaching until an opportunity arose for Peter (Patrick) to become Surveyor and Mining Commissioner in Naquamaland, It was here that their first two sons were born, Robert Alexander in 1865 and Patrick in 1867.
At about the time of Patrick's birth, in 1867, gold was discovered at Millwood, near Knysna on the Eastern Cape coast, and Peter and Agnes moved there with their children, making the journey by ship from Naquamaland, which was on the Western Cape coast, not the most comfortable of experiences; and Agnes was, to put it mildly, most purturbed at seeing all their possessions being floated out to the ship in wooden barrels. However, the move was made, and Peter continued as surveyor and farmer until his death, which occurred at The Firs, Stellenbosch, in 1897. He was by that time very well known in this part of the world, and Mount Fletcher in the Eastern Cape was named after him.
Agnes bore her husband nine children, the first two are mentioned above. The others were Thomas, Archibald, Roderick, Angus, Jean, lsobel and Murray. Of the three girls, Jean died and was buried in Cape Town; Isobel married Richard Dawson and had two children, and Murray married twice, her second husband being Major Mainwaring, She also had two children, one of her daughters at the present time living in Dorset.
Mrs. Agnes Fletcher was a very tiny woman, and a story is told in family circles of her having to pull out one of the lover drawers of a cupboard and stand on it in order to reach a rail on which the clothes were hung to air.
The eldest son of Peter (Patrick) and Agnes Fletcher, Robert Alexander, was educated at St. Andrew's College, Grahamstown, and qualified as a land surveyor and civil engineer. He was engaged on the Cape Central Railway survey in 1887, and later participated in various bridge building projects in the Cape and the Orange Free State. in 1891 Robert married Annie Alice Macdonald of Queenstown, who was descended from the Clan who had in days gone by been deadly enemies of the Fletchers in Scotland. Robert's younger brother, Patrick, was a Surveyor in Rhodesia, and in 1894 Robert moved to Bulawayo, and together they founded the firm of Fletcher and Espin, Government Surveyors. Annie remained in Pretoria until 1895, when she made a nightmarish journey to join her husband with her two eldest sons, one of whom was a mere babe in arms.
The trip was made by mule coach, and the passangers had to endure bumpy roads, terrific storms and floods, even having to travel on foot at times when the coach had to contend with especially difficult conditions. Annie had a small stock of condensed milk for the baby, which proved invaluable, as no fresh milk was obtainable on the journey. At one point the coach had to make a particularly hazardous river crossing, and to the consternation of the passengers it became stuck in the swirling waters. A boat had to be sent to rescue them, and with much difficulty they scrambled out of the coach windows and into the little craft, which in turn stuck in the sand some little way from the river bank. They were lifted out by natives, and dumped in the sand to struggle up as best they might. Miraculously almost, the trip to Bulawayo was eventually completed, and Mrs. Annie Fletcher was deservedly acclaimed later in her life as having been one of the true pioneers of this country.
Robert and Annie made their home at Umvatcha, Bulawayo, where Annie was buried when she died in 1944. Robert Alexander, meanwhile, had been very active in the affairs of Rhodesia, and was known as "R.A." throughout the Colony. He was a member of the Legislative Assembly, then became Minister of Agriculture and Lands, and in the King's Birthday Honours in 1939 he was created a Commander of the Order of the British Empire. He died in 1950, and was, like Annie, buried at Umvatcha.
"R.A." and his wife were survived by four sons and numerous grand-children. Their son, Robert Kenneth, born in 1892, married twice. His first wife presented him with two daughters, and his second wife, Elsa, had two daughters and a son, also named Robert Kenneth. "R.A's" second son, Hugh Murray, who was born in 1894, and was the baby who had made the stormy stage coach journey with his mother and brother, served in the 1st Rhodesian Regiment in German South West Africa, and later joined the Royal Flying Corps in England, serving as a pilot in the Near East. He returned to Rhodesia in 1919 and married Bessie Cashel in 1922. They had five children, Robert (1924-1950), Hugh Edward, born in 1926, two girls, Aileen and Elizabeth, and another son, Alan (1939-1959). Hugh Murray Fletcher served in the Department of Native Affairs until 1953, when he retired. He died in 1965. His second son, Hugh Edward, served on minesweepers of the South African Naval Service during the 1939-45 War, and has since been engaged in farming. He married Annette Esterhuyse, and they have a family of five girls. Their only son, Hugh, died in 1964, aged only five.
The third son of Robert and Annie Fletcher was born in 1900 and was christened Patrick (now Sir Patrick Bisset Fletcher). He was called Ben by his family one of the few Fletchers with the name of Patrick who were not referred to as Peter. He mined gold at one time, then turned to politics and became a Member of Parlisment. He was in the Rhodesian Cabinet, first as Minister of Agriculture, and later as Minister for Native Affairs and Minister of Health. He married Dorothy Napier, and they have two daughters, both of them married with families of their own, and one son, Johnse, who manages the family farm near Sinoia.
At Umvatcha, the farm which R.A. .Fletcher took over in about 1903, lives Alister Archibald Angus Fletcher, "R.A's" fourth son. He married Lorraine de la Harpe and has a son, Alister Michael, born in 1942, and a daughter, who is married with a family.
To turn now to R.A. Fletcher's brother, Patrick, who was known as Pat. He was born in Naquamaland in 1867, and as previously mentioned, qualified as a land surveyor. He worked in South Africa for a while, and later surveyed the township of Bulawayo, where he went into partnership with his elder brother, Robert. Together they carried out surveys of a great proportion of Matabeleland and the Northern Transvaal, and Pat later took up farming at Bambesi. He died in 1948, leaving a wife, Ida Eliza, who incidentally was the sister of Robert's wife, Annie. They had four children, Sheila, born in 1899, Patrick Ian, born in 1903, Dugald, born in 1907, and Colin, born in 1909. Three of them married and had families. Patrick married Madge Millett and had three children Colin married Mary Walker and they had a son and a daughter and Sheila became Mrs. Richard Kelly and had one son. Dugald, however, became a miner, served with the Black Watch during the second World War, and afterwards became a hermit, living in the bush.
Thomas Fletcher, the third son of Peter and Agnes, married and had two sons, Lionel, the elder, having two sons and a grand-daughter, Thomas died in about 1951.
Peter and Agnes's fourth son, Archibald, became an Estate Agent in Johannesburg, and was married with four children. First was Reggie, then Maud, who was a singer, thirdly Angus, and then Cedric, married with one daughter.
The fifth son was Roderick, known as Rory. although something of a black sheep - a roamer he eventually married Amy Duckitt, and he died in about 1954, leaving one daughter, Patricia. He assisted his brother Pat in the Transvaal survey. He was considered by the younger members of the family as a lovely old man, and would tell many yarns to the children of his escapades in various diamond rushes, gold prospecting, etc., and spent his old age keeping bees and charging goods to his relatives' accounts! He enjoyed a bottle of brandy when the opportunity arose, and one of his most memorable features was his piercing blue eyes.
The youngest member of this family was Angus Somerville Fletcher, born in 1883. He studied law, and set up in Bulawayo in about 1900, where he was in practise until 1914, when he joined the 1st Rhodesian Regiment. He went to South West Africa, and when his regiment was disbanded he joined the Royal Artillery and went with them to France. He was severely injured by a shell, and whilst in hospital was nursed by his future wife, Helen Muir Stewart, who was descended from the Stewarts of Glen Finglas, and whose father by a strange quirk of fate, lived at Achallader. She was in fact born at Achallader farmhouse. When Angus had recovered he went on a lecture tour of the United States and in 1926 he and Helen were married. Angus held several important posts in the States, being a member of the National Industrial Conference Board from 1919 to 1922, and from 1928 until 1941 he was Director of the British Library of Information in New York. In 1946 Angus Somerville Fletcher was Chairman of the United Nations Headquarters Commission, having been honoured with the C.B.E. in 1931 and the K.C.M.G. in 1941. He died in August, 1960, and a memorial is to be seen in Dalmally Church in Argyllshire, placed there by his widow. They had three sons Donald and Peter, each of whom have families of their own and Angus, who is unmarried. Lady Helen Fletcher still lives in New York.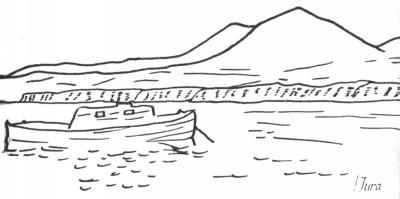 © 1973 Margaret Mason